craftgenix is the production arm of Geocache Land Ltd that was founded in January 2017 to take over the geocoin production service previously offered by Geocache Land.
Due to the increase in the range of products we now produce it became obvious a re-brand was required to reflect the changes. craftgenix still produce the best quality geocoins but we now also produce the following items, most of which are made in house at our base in Leadhills:
Wedding Gifts: photo albums, etched glass, favours

Photo Engraving: family memories on slate, glass or wood

Signage: Create custom signs in wood and acrylic

Models: From architectural models to toys

Keyrings: Personalised and off the shelf keyrings in wood, metal, acrylic or stone

Pet products: I.D. tags and personalised leashes

Trackable tags: metal, acrylic, wood, plastic and much more

Chopping boards and coasters: Personalised in wood, or slate
Information about all the above can be found on our sister site craftgenix.uk and we will soon be stocking items made by craftgenix in our own shop.
Geocoin Production
To give our customers the geocoin they want we work with some of the world best known and top designers, and several of the leading geocoin production mints.
Our customers include individual geocachers, major event organisers and businesses. These include, but are not limited to:
Geocache Land

JP's Geodesigns

Kelux Geocoin Designs

GAGB

UK Mega 2017, Devon

UK Mega 2018, Yorkshire

UK Mega 2019, Aberdeenshire

UK Mega 2020, Sussex

UK Mega 2021, Lincolnshire

Mega:MK 2023

Edinburgh Geological Society

Caledonian CacheFest

South Derbyshire Geocachers

Private individuals

Geocoinfest Europe 2019

Stramash Creations

The Hopetoun Arms Hotel

The Scottish National Wheelchair Curling Team
There are 5 steps to the process of producing a geocoin.
Step 1. The idea.
Every geocoin starts with an idea. You need to get that idea drawn up with as much detail as possible. This is one of our own designs, Aon-adharcach Your drawing does not need to be as clear as this, as long as it shows the basic idea we can work with it.


Step 2. The design, getting the design ready for the mint to be able to use.
Once the designer has done their magic your design will be sent to the mints for production quotes


Step 3. Having the design approved by Groundspeak.
Your design needs to be approved by Groundspeak to ensure it is family friendly and not offensive. We will ensure this happens for you. We have never had a design rejected yet!


Step 4. Getting the final quote from the mint and having samples made.
Once we have the quotes back it is time to move on to production. The first stage of this is to have samples made.


Step 5. Approving the samples and going into full production
Your samples come back, we check them and pass them onto you. Once you are happy, final production of your geocoins start.


How many geocoins to produce?
That is entirely up to you but bear in mind that the fewer coins you make the cost per coin will be more due to certain costs being the same regardless of the quantity you make, such as design fees, icon fee and mold fees.
Of course, the more you make the better the price. The coins do not all have to be the same. You can have different finishes and enamels. This way you can make Regular Editions, Limited Editions, Extra Limited editions and so on.
The price of producing a geocoin can be complicated to work out as there are many things to take into account that will affect the final cost of your coin. The costs can be split into three groups - fixed costs, variable costs and import costs.
We will start with fixed costs:

Fixed costs are the things that we know the price of before you start your geocoin production and remain the same however many coins you have produced. Fixed costs include:

Mold Fee: To make the geocoin a mold must be made. This is a one off cost and if you decide to make a second run of your geocoin you will not have to pay for a second mold (as long as the design is the same). The mold for a geocoin costs between £80 and £200 depending on the complexity of the design. We have found over all the designs we have made that the average cost of a mold is about £120.
Tracking numbers: Tracking numbers are a set cost. They are provided by Groundspeak and are $1.50, about £1.20, each.

Icon: If you want a unique icon for your geocoin (the little picture that appears on each trackables home page on geocaching.com) they cost $150 (about £120).
Icon design fee: This is now a free service through craftgenix! You may however choose to design your own or have a third party design it for you.
Samples: We always recommend having a set of sample coins made before final production starts. We charge a set fee of £60 for samples. For this you get two geocoins made. These samples can have different finishes, enamels, coatings etc. so you can see how the geocoins will look once finished. It is also the best way to spot any faults in the design work and get corrections made before full productions starts. If you wish you do not have to have samples made. This will reduce costs and production times BUT any mistakes in the design or production that would have been stopped by having samples made will not be the fault of craftgenix or the factory
Admin Fee: craftgenix charge a small admin fee to cover the costs involved in dealing with the mint on your behalf, checking that the sample are correct and checking each finished coin.
Variable costs:
This is the biggest group and these are the items that will alter the price of a geocoin the most.
Designer Fees: craftgenix work with some of the worlds top geocoin designers. We can take your idea, pass it to them and have a mint ready design completed for you. Designers charge in different ways and will also reduce their prices if they can have an Artists Edition of the coin for themselves. As a rough estimate a designer will normally ask about £200 to £350 to design a geocoin for you, but it may be much cheaper. Designers may also give you additional guidance and advice on such things as enamels, colour choices, finishes and design alterations for your geocoin.
craftgenix also have our own designers who can work on simple 2D designs. Our own designers are free for our customers to use as long as craftgenix produce the geocoin for you. If you take any design we have worked on elsewhere craftgenix will charge you a design fee of £500 for the work done.
Material: Geocoins are normally made from one of two metals; a zinc alloy or copper. Zinc is the normal material used and is lighter and cheaper than copper. craftgenix can also produce solid silver geocoins, wood geocoins and slate geocoins.
Finish: This is the colour of the metal you see on the finished geocoin. There is a big range of choices, from gold to silver and black nickel to copper. And then your can choose to have a shiny finish, satin finish, antique finish, and so on. We often have customers ask for "a gold finish" and are suprised when we ask "So is that gold, satin gold, shiny gold, antique gold, foggy gold, 18 Karat gold, a two-tone gold or another gold finish you would like?"
Enamels: Enamel is the colour on your geocoin. Most designs require at least one enamel but you may not want them at all. Your choices here can make a big difference to price. Price alters with type, amount and colour.
99% of enamels used today are imitation enamel due to the cost. Imitation enamels are plastic instead of glass. They are applied by hand to each geocoin and come in several types. The main two versions of imitation enamel are soft and hard. Soft is the cheapest option and often looks like a painted surface on the geocoin. It can be used to great affect to highlight shapes and texture. Hard imitation enamel is used to fill an area on the geocoin and leaves a flat even surface where applied. There are limitations to where hard enamel can be used and although widely used on geocoins soft enamel is more common.
Both hard and soft enamels come in a huge range of colours and also in special finishes such as glitter, glow in the dark or translucent.
Most geocoin producers are unable to provide genuine glass enamels anymore but if you wish craftgenix can provide this service. We would only recommend using this service for a very special geocoin, such as to celebrate a wedding or birth, due to the much higher costs involved.
Size: One thing that seems obvious but is often forgotten is size. Both diameter and thickness can greatly affect the cost of your coin, basically the bigger it is the more it will cost! Size also affects postage costs (see import costs).
Shape: Simply put a round geocoin used to be cheaper than a random or complex shaped coin but due to our relationship with the mints this is no longer true. craftgenix produce a range of shapes and are happy to guide you on this part of the process.

Production run size: The production run is the amount of geocoins of a design you have made in one go. The more you have made the lower the cost per item. For example, a production run of 50 coins may be priced at £9.50 per geocoin, a production run of 100 of the identical coin may cost £5.25 per geocoin, while a run of 300 coins may only cost £3.00 per geocoin. So put simply, the more you make the cheaper they are. However this is purely on total numbers made, you can have several versions made within this run (different enamels, finishes, etc).
UK shipping: Sending the geocoins to you once the order has been quality checked. We do this by Special delivery in the UK and Tracked and Signed to all other locations. (Please note; if the delivery address is outside of the E.E.A. (E.U.) then you will be charged additional import taxes by your country. These charges are your responsibility.)
Import Costs
This is the group nobody likes, it is shipping and taxes.
Shipping from the Factory: Shipping the geocoins to the UK is not free (we wish it was!). There is no simple calculation to work out the price in advance. Due to the weight of geocoins they need to be shipped by courier. The couriers work out the price of shipping based on weight, size, distance of travel and air fuel costs on the day of shipping. Geocache Land Ltd have a contract with one of the worlds leading and biggest courier services. This provides us with much cheaper shipping rates than standard and we pass all these savings on to you. As a very rough guideline to ship 300 geocoins costs about £200, 200 geocoins costs about £180 and 100 geocoins costs about £150.
Tax: VAT and import duties have to be paid on all products imported to the EU and UK, VAT is charged on both the value of the contents of a package and on the postage costs. The value is not the price you have paid but the value the UK Government think the contents are worth!

Geocoins during production



Geocoins before being filled with enamels



Geocoins part filled with soft enamels

Geocoins with hard enamels being hand finished
Geocoin Cost Example:
To help you work out the cost of geocoin production here is an example of the costs involved:
Customer requires a 45mm round geocoin, 3mm thick and has 5 colours in hard enamels and 1 glitter enamel in the design. The customer decides they want an icon, an icon designing for them and a total of 200 geocoins in four different finishes. It is a simple design and they use craftgenix designers for free.
Set fees:
Mold - £120
Tracking numbers - £240
Icon - £120
Icon design - £40 Now free
Samples - £50
Admin Fee - £50
(Total set fees - £580)
Variable fees:
The cost of the coin in 4 different finishes with 6 enamels is an average of £4.00 per coin. This is a total of £800
Import fees:
Shipping - £180
VAT and other import charges - £230
(Total import fees - £410)
The overall cost for production of this geocoin is £1790. This is £8.95 per coin
If 300 coins of the same design had been made the total cost would have been :
Set fees: £700 (due to additional tracking codes)
Variable fees - £1140
Import fees - £450
Overall - £2290 or £7.63 per coin
Enamels
If you have looked into making your own enamel pins, you have probably seen the terms "hard enamel" and "soft enamel". Many people have the same question: What's the difference?
The biggest difference between hard and soft enamel is the finished texture. Hard enamel pins are flat and smooth, and soft enamel pins have raised metal edges. Both methods use the same metal molds, and both will have bright and vibrant colors. But there are also some special options that are exclusive to soft enamel.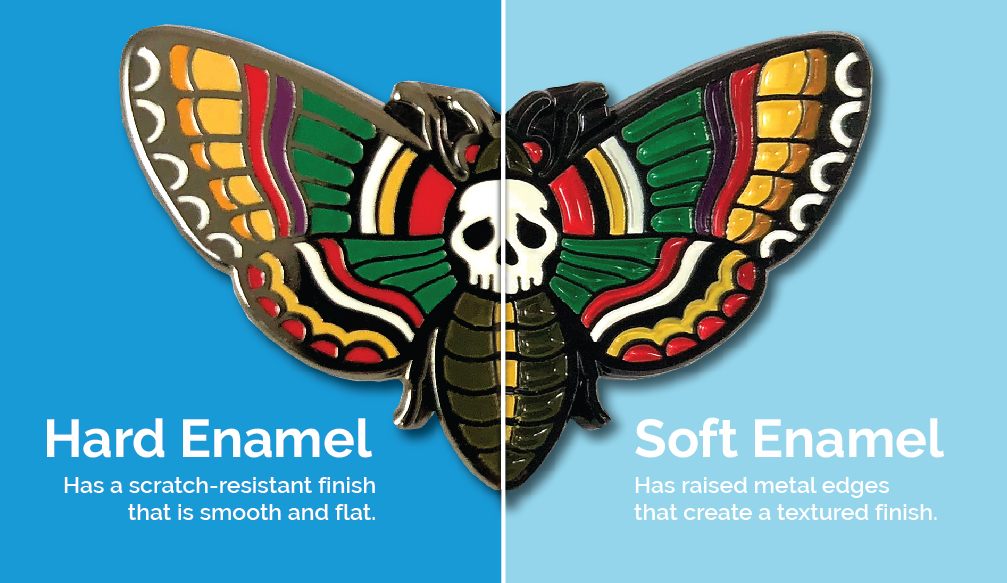 When to Pick Soft Enamel
Soft enamel is one of the most popular types of pins, having a raised and textured look and feel that many people enjoy.
Enamel pins must be baked in an oven to cure and harden the enamel. Unlike hard enamel pins, the soft enamel metal plating process is done before the enamel is filled in. This means that there are some metal finishes that can only be on soft enamel. If you want your pin to be painted black, or painted any other custom color, then you'll need to use soft enamel.
When to Pick Hard Enamel
Hard enamel pins are more durable and scratch-resistant compared to soft enamel. Many people choose hard enamel over soft enamel because of the clean, finished look. Many designs can work in both hard and soft enamel, so most of the time it comes down to personal preference. Hard enamel pins are first filled in with color, then the pin's face is ground down to be flat and smooth. The grinding and polishing makes them incompatible with certain metal finishes. If you want a standard gold or silver metal plating, then hard enamel might be a good choice for your design.
Painted Black Metal vs Black Nickel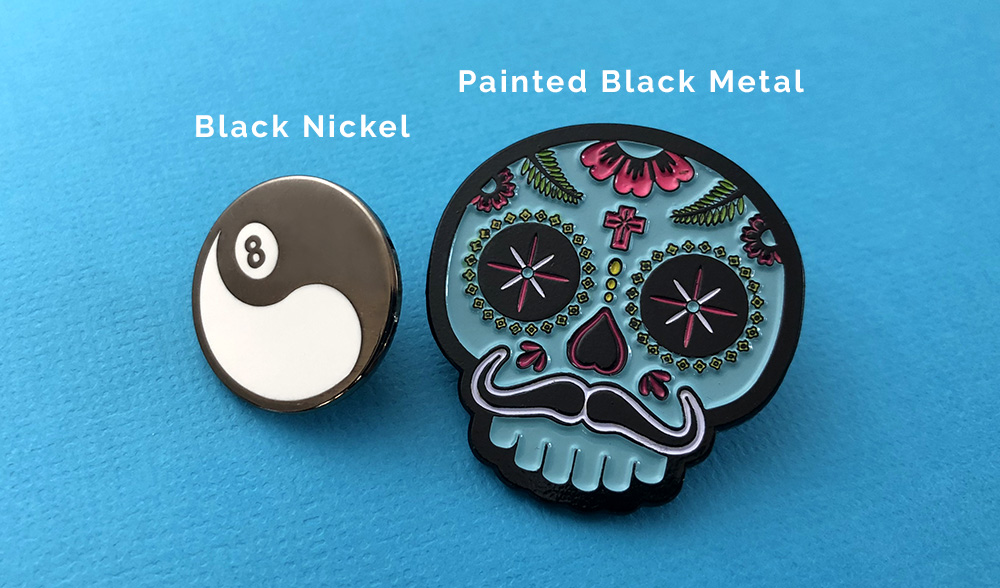 A very important distinction between hard and soft is that certain metal finishes are only available with soft enamel. With soft enamel, your metal can be painted any custom color you'd like. The most popular color is black. If you want black metal with hard enamel, your only option is black nickel. Black nickel is actually a very dark gray color and is slightly shiny. If having your metal be a true, dark black is important to your design, then soft enamel is your best choice, is only available with soft enamel.